MOMO Tuning Items
MOMO Parts & Accessories
MOMO promotional Items
We bring to the market the finest Italian style, a long tradition of quality, our racing experience of many years & technological innovation respectful of the environment. We turn cars from simple tools into a way of life.
THE ORIGINS
MOMO was founded in 1964 by race car driver Gianpiero Moretti. In that year, Moretti commissioned a local craftsman to produce a custom steering wheel for his own racing car. This special steering wheel – the first MOMO steering wheel in the Company's history – had a superior and thicker grip compared to the normal racing steering wheels available at the time. Drivers from other teams quickly noticed Moretti's new steering wheel and wanted the same for their cars, and so it started to gain fame within the racing community. The new MOMO steering wheel also caught the attention of the then Ferrari Formula One driver, John Surtees, who wanted to mount it on his single-seater car. John Surtees' Ferrari, equipped with the MOMO racing steering wheel, won the Formula One world title in 1964. And so it was that Gianpiero Moretti converted his passion into a manufacturing reality, and MOMO (for Moretti Monza) was born.
MOMO: PARTS & ACCESSORIES: STEERING WHEELS || SHIFT KOBS || SHIFT PEDAL KITS || HUB ADAPTERS
MOMO STEERING WHEELS
Since the 60's the MOMO steering wheel has made the Italian brand famous all over the world. The design of each MOMO steering wheel is the result of accurate ergonomic studies, the scent of fine leather, the harmony of every detail and the choice of the best materials.

DARK FIGHTER WOOD
Steering wheel in black air leather & mahogany wood, zebrano finish with black finger grooves, black spokes and black air leather central pad, anthracite horn button.

GT 50 ANNIVERSARIO
GT50 is the most advanced and innovative MOMO steering wheel to date. It's anatomic grip is sophisticated combination of black leather and alcantara with leather piping. The 50-year limited edition of the GT50 features a glossy silver cover with the "MOMO 50 years" logo,a red piping on the grip and an exclusive Owner card with the limited production number.

TOMCAT
Black leather and air leather anthracite spokes and black horn button.
MOMO SHIFT KNOBS

SK 50 ANNIVERSARIO
SK50 is a full aluminium body machine shift knob with anodized glossy silver finish. The 50-year limited edition will feature a detailed "MOMO 50 years" logo on top of the knob.

COMBAT EVO
Top grain black leather with chromed or carbon look insert. Matching stitch. MOMO aluminium emblem. Black or Chrome collar.

GOTHAM
Top grain black leather, dark chrome and rubberized MOMO logo insert, "GOTHAM" logo emblem and dark chrome collar. Also available for "reverse lift system".
SHIFT PEDAL KIT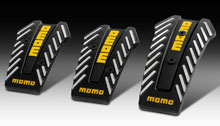 NERO
Machined aluminium pedals with black powder coat finish and rubber inserts. Fits manual transmission vehicles.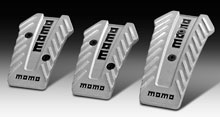 GTR2
Ultralight machined aluminium with black MOMO logos. Fits manual transmission vehicles.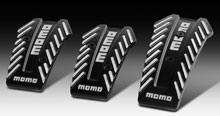 GOTHAM
Machined aluminium pedals with black powder coat finish. Fits manual transmission vehicles.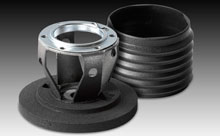 MOMO INSTALLATION HUBS
MOMO is the company which invented and market-launched as first the collapsible steering wheel hub. This device is able to absorb outstanding impacts thank to a programmed deformation, thus dramatically increasing the safety level in case of collision. MOMO has the largest application catalogue in the industry, offering fitments for hundreds of different vehicles.
MOMO: PROMOTIONAL ITEMS: CAP || T-SHIRT || WINTER JACKET || DRIVER BAG || UMBRELLA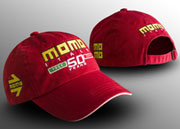 CAP ANNIVERSARIO
The MOMO 50 year's edition cap features embroideries with historic MOMO logos and is available in red for a sporty look with compromises.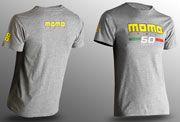 T-SHIRT ANNIVERSARIO
The MOMO 50-year edition t-shirt is made of high quality cotton assuring the best fitment and durability. The item is available in grey and white.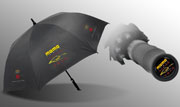 MOMO RACING TEAM UMBRELLA
Convenience & style come together: the MOMO racing umbrella is inspired by the pit lanes for an every-day use.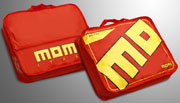 DRIVER SUIT BAG
The MOMO driver suit bag is a real racing item used by professional drivers on the world wide tracks.
MOMO in INDIA
SAI MAG WHEELS is the official distributor of MOMO parts & accessories in India. MOMO parts & accessories can be purchased online through http://www.alloywheelsindia.com. Easy EMI option is available on the website; customers can spread the cost of MOMO parts & accessories from 3 to 24 months. MOMO wheels are also available through a carefully selected authorized dealer network. If you don't see the MOMO ITALY OFFICIAL STORE seal, then it is not an authorized dealer. Only products purchased from a MOMO authorized dealer qualify for the manufacturer's warranty & are backed by outstanding customer service through our authorized dealer network.
Should you have any further questions about us, please do not hesitate to contact us via email at inquiry@saimagwheels.com or speak to our customer representative on +91-11-45633716.