STING
Hyper Silver
Brand: MOMO Italy
Size :20
PCD: 120
Width: 9.0
Holes: 5
ET: 35
Finish: Hyper Silver
Offer Price :

25000

22500/piece
Discount: 10%
Conditions Apply : Price may vary according to different states.

Check delivery at your pincode
Special Offer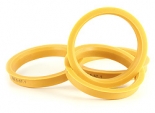 MOMO hub rings offer
FREE !! Hub Centric Rings set
The Hub Centric Ring is a device used with the alloy wheels and are installed between the car wheel hub & the alloy wheel. The purpose of the hub centric ring is to fill the empty space between the wheel hub and the centre bore of the alloy wheel.
Made in Germany
Made from durable industrial plastic
Worth Rs.2000 /-
Description
Clean and elegant lines for a wheel with a strong personality: this is Sting. Sting collects all the experience of MOMO about design in an extremely sophisticated product, featuring 15 tapered and powerful spokes, which outline a strong character. The elegance of design and the available diameters allow the application on a wide range of vehicles from different categories, from sports cars to SUVs. Moreover, like every last generation MOMO wheel, Sting also features the compatibility with run-flat tires and TPMS system, for the maximum safety on the road. Available in 17" , 18" , 19" & 20" size.
Other Finishes for this Product
Suggested Tires
235/60/18

21000/piece

225/50/17

11000/piece

235/65/17

16000/piece
Suggested Accessories