WIN PRO
Matt Black Color
Brand: MOMO ITALY
Size :17
PCD: 100
Width: 7.0
Holes: 5
ET: 35
Finish: Matt Black Color
Offer Price :

12500/piece
Conditions Apply : Price may vary according to different states.

Special Offer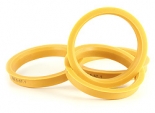 MOMO hub rings offer
FREE !! Hub Centric Rings set
The Hub Centric Ring is a device used with the alloy wheels and are installed between the car wheel hub & the alloy wheel. The purpose of the hub centric ring is to fill the empty space between the wheel hub and the centre bore of the alloy wheel.
Made in Germany
Made from durable industrial plastic
Worth Rs.2000 /-
Description
The MOMO Win Pro is a classic 5 spoke wheel featuring a slightly dished centre section. Safety, quality and elegant Italian design are the core values behind every MOMO product. Crafted to ensure maximum safety in all driving conditions, the lightweight, premium quality MOMO alloy wheel range must meet the most stringent homologation requirements in the world (TUV, JWL, VIA and SAE international regulations) in order to guarantee reliability, durability, performance and safe driving.
Other Finishes for this Product