SENTRY
Matt Black Color
Brand: MOMO Italy
Size :20
PCD: 112
Width: 9.0
Holes: 5
ET: 25
Finish: Matt Black Color
Offer Price :

25000/piece
Conditions Apply : Price may vary according to different states.

Check delivery at your pincode
Special Offer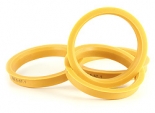 MOMO hub rings offer
FREE !! Hub Centric Rings set
The Hub Centric Ring is a device used with the alloy wheels and are installed between the car wheel hub & the alloy wheel. The purpose of the hub centric ring is to fill the empty space between the wheel hub and the centre bore of the alloy wheel.
Made in Germany
Made from durable industrial plastic
Worth Rs.2000 /-
Description
SENTRY, the new sporty five-spoke MOMO wheel, is pure adrenaline. Sharp design and carved spokes create a unique and timeless look, perfect for sports cars, thanks also to the 18 "and 19" sizes with differentiated rim for front and rear axles. SENTRY is available in two colors with different personalities: the new matt black, to make the car more aggressive and bright hyper silver, elegant and seductive. Compatibilities with Run Flat tires and with Tire Pressure Monitoring System are embedded in all Sentry versions, confirming the technological excellence of MOMO.
Other Finishes for this Product
Suggested Tires
Suggested Accessories