RF 01
Golden Bronze
Brand: MOMO Italy
Size :20
PCD: 120
Width: 10.0
Holes: 5
ET: 45
Finish: Golden Bronze
Check delivery at your pincode
Special Offer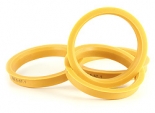 MOMO hub rings offer
FREE !! Hub Centric Rings set
The Hub Centric Ring is a device used with the alloy wheels and are installed between the car wheel hub & the alloy wheel. The purpose of the hub centric ring is to fill the empty space between the wheel hub and the centre bore of the alloy wheel.
Made in Germany
Made from durable industrial plastic
Worth Rs.2000 /-
Description
MOMO RF SERIES rnUPTO 20 % LIGHTER WHEELS!!rnrnFrom the advanced technology of Rotary Formed the new RF-series is born: A new collection of alloy wheels, optimized for higher performances and addressed to high range cars.rnRF – 01rn• SPLIT FIVE-SPOKE DESIGNrn• THE LIGHTEST IN THE RF-SERIES LINE UPrn• FAVOURS BRAKE HEAT DISSIPATIONrnrnThe Y Spokes layout, underlined by grooves running through the whole wheel perimeter, provides the structure with a flexible and lean look, which fully integrates the dynamic and sporting temper of RF-01. Face and concavity variations allows to choose more daring equipment's while the three finishing fulfill the most demanding customers: Stardust Glossy Black, for those who love total black without giving up a glamour touch, Titan-Ice, Classic and elegant, and Golden Bronze, for those who don't want to go unnoticed.
Other Finishes for this Product
Suggested Tires
235/60/18

21000/piece

225/50/17

11000/piece

235/65/17

16000/piece
Suggested Accessories